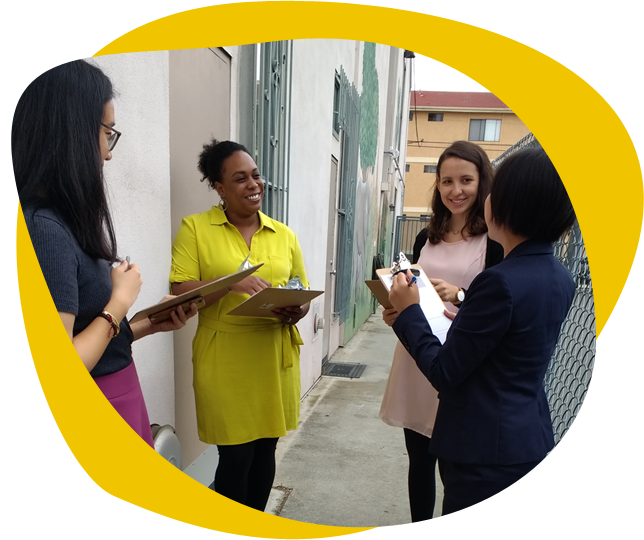 Attorneys
Attorneys can donate their legal expertise by providing advice at a legal clinic or pro bono representation to an SDVLP client. Our case list offers a wide range of litigation and transactional opportunities.
Law Students
SDVLP offers law students an opportunity to gain practical legal skills while helping San Diego County's low-income community. Please note that space is limited for in-office volunteers.
Other Volunteers
Other volunteers can assist low-income residents with their legal issues by supporting our staff and volunteer attorneys at legal clinics and in pro bono matters. SDVLP has a particular need for Spanish speakers.
You Can Help
SDVLP relies upon volunteers like you. Whether you are a law firm, lawyer, law student or paralegal, you have the ability to change a life. Any amount of time you can give makes a difference. Whether you volunteer at a weekly clinic or assist with a case whenever you're available, your efforts WILL impact people's lives. Many lawyers say that volunteering is the most satisfying aspect of their careers.
SDVLP is dedicated to providing legal services to indigent San Diego County residents who otherwise are unable to afford or access assistance. SDVLP screens all cases for merit and client financial eligibility. Malpractice coverage, materials, forms, pleadings and training (as needed) are provided to volunteers. Time commitments vary according to each case. SDVLP will accommodate your schedule and your preferences.
Although SDVLP serves over 5,000 underprivileged clients annually, this number represents only a fraction of the men, women and children who need legal help. The majority of people in need still go unassisted. Every year, hundreds of attorneys and law students who volunteer through SDVLP give the generous gift of time, service, and expertise to thousands of San Diegans who would not otherwise have access to justice.
Whether you're an attorney, law school student, or paralegal, submit a volunteer registration form, or check out our FAQs for more information about how you can help.