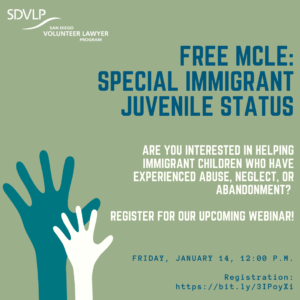 Are you an attorney interested in helping immigrant children who have experienced abuse, neglect, or abandonment? Join the San Diego Volunteer Lawyer Program for a virtual MCLE.  Learn about Special Immigrant Juvenile Status (SIJS) and obtaining the required SIJS order in a family law proceeding to help a child become eligible to pursue this pathway to lawful permanent residence. Practical advice and template orders will be provided and you will have the opportunity to practice your new skills and take on a pro bono case if you choose. This training is perfect for newer attorneys or attorneys wanting to expand their family law experience.
DATE: Friday, January 14, 12:00 p.m. to 1:00 p.m. presented via Zoom
REGISTER HERE: https://bit.ly/3IPoyXi
CONTACTS: Rachel Stevens, [email protected] or Felicia Hernandez, [email protected]
MCLE CREDIT
This activity has been approved for participatory Minimum Continuing Legal Education credit by the State Bar of California in the amount of 1 CA CLE hour, and San Diego Volunteer Lawyer Program, Inc. certifies that this activity conforms to the standards for approved education activities prescribed by the rules and regulations of the State Bar of California governing minimum continuing legal education.